Written by
admin
on March 25, 2011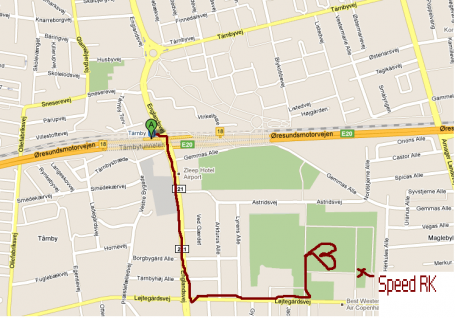 On Sunday the 27/3 the women's team will go to Copenhagen to play a friendly 7's tournament. The teams in the tournament are Danish national side, Malmö RC and LUGI RFC .
The day starts with an hour of training together with all tournament participants. At 11.00 the games start. All teams will meet twice and the games should be finished around 15.00 and at some point before that there will be a lunch break.
The women's team will meet 8.30 at Lund Station outside of Viggos hamburger place. They will take a train that leaves 08.41 from Lund C, which train arrives in Tårnby 09.18. (Fore those (Kerstin) leaving from Helsingborg this trains leave 0812 and same train leaves form Malmö C 08.53)
For supporters that want to come with and watch you can either take the train with the team or travel by yourself. Get of at Tårnby and then walk according to the map below….
Hope to see a lot of you to show your support for the ladies!!
LUGI LOVE
Written by
Jim
on March 19, 2011
6 nations triple header today. I look forward to sharing a beer with all of you.
3.30 pm Scotland v Italy (food will be arranged during the game)
6 pm Ireland v England
8.30 pm: France v Wales
Written by
Jim
on March 7, 2011
Congratulations to all Lugi players and supporters for a fantastic weekend of rugby. If you haven't already, you can check out the games below.
Lugi Ladies vs Atilla
Lugi Ladies vs Malmö
Lugi Ladies vs Stockholm Exiles
Semi-Final: Lugi Ladies vs Göteborg
Final: Lugi Ladies vs Stockholm Exiles
---
Lugi Men vs Kalmar
Lugi Men vs Stockholm Exiles
Lugi Men vs Atilla
Bowl Semi-Final: Lugi Men vs Kalmar
Bowl Final: Lugi Men vs Wexiö
Photos and match reports to come.
Written by
admin
on March 3, 2011
På årsmötet 2/3 2011 beslutades om medlemsavgifter 2011. Dessa är följande:
Senior – 1200kr helår 700kr halvår
Junior – 600kr helår
Support medlem – 300kr (Oldboys, Familj, Vänner, Fans och andra Lugi Lovers…)
Betala till kontant till Olof Carlsson eller Mia-Maria Nordlund eller betala till vårat postgiro konto 797887-7. Betalar ni via postgiro var noga med att ange för vem betalningen gäller med Namn och Personnummer. Är du support medlem skicka ett mail till lugilionsrugbyclub@gmail.com när du betalar så att du hamnar på våran mail lista för supporters.
LUGI LOVE
Mia-Maria, Kassör LUGI Rugby
---
On the Annual Meeting 2/3 2011 the membership fees for 2011 was decided as follows:
Senior – 1200 SEK full year 700 SEK half year
Junior – 600 SEK
Support members – 300 SEK (Oldboys, Family members, Friends, Fans and LUGI lovers…)
Pay your membership fee cash to Olof Carlsson or Mia-Maria Nordlund or put money to our POSTGIRO account 797887-7. Make sure to state your name and birth number when paying to the bank account. If you are a support member paying send and email to our email account lugilionsrugbyclub@gmail.com after paying so we can put you on our supporters mailing list.
LUGI LOVE
Mia-Maria, Treasurer LUGI Rugby