Written by
admin
on August 21, 2012
A level 1 IRB Referee course will be held at our facilities Saturday the 1st (starting around lunch time) and Sunday the 2nd of September by Julian Bevan. It's a great opportunity to get to see our sport from another perspective and to increase your game awareness.
If interested please send a mail asap to kontakt@lugirugby.com (hurry up: only few spot left).
Written by
Jim
on August 15, 2012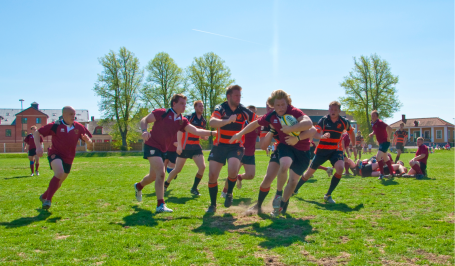 If you are at all interested in playing rugby on your exchange, then the Lugi Lions rugby club invites you to join us at training.
The Lugi Lions train at Centrala IP near Lund Central Station every Monday and Thursday. Women's sessions start at 6pm. Men's start at 7pm. We urge anyone interested in the sport to come down and give it a shot.
What have you got to lose?
[wpgmappity id="1″]
The Lugi Lions Rugby Club is a great place to play rugby, keep fit and have fun – an environment in which Swedes and exchange students mix freely. We have both men's and women's teams and can cater to all backgrounds and levels of experience. Our teams include beginners of all ages, internationals who have played for many years in their own country, as well as Swedes who have played at the national level.
Lugi is a very social club. Over the years we have welcomed players from many countries: Argentina, Australia, Canada, Chile, England, Fiji, Finland, France, Germany, Ireland, Italy, Japan, Kazahkstan, New Zealand, Scotland, South Africa, Spain and USA. There are plenty of opportunities to party; our beer prices are as cheap as the Nations and we hope to show rugby games every week at the clubhouse till the end of the year.
Register online or get in touch with our team reps:
Ladies, get in contact with Helene at damer@lugirugby.com.
Gents, you'll need to speak to Paolo at gents@lugirugby.com.
The Lugi Lions Facebook Group
The Lugi Ladies Facebook Group
Written by
Jim
on August 12, 2012
Som forsättning av firandet av LUGI RUgby Klubbs 40-årsjubileum håller Stefan Landgren en OLd Boys Turnering den 15 September på Centrala IP.
Samling kl 14 och sedan spelas matcher mellan 15.00 och 17.00. Efter turneringen kommer det finnas mat och dryck och härligt umgänge för alla deltagare.
Avgift för turneringen är 100kr. Allt överskott för mat och lotteri kommer gå till Cancerfonden.
Skicka ett maill till Stefan Landgren för att anmäla er till turneringen : st.landgren@telia.com.
---
In continuation of our 40th Jubilee celebrations, Stefan Lundgren will be hosting an Old Boys tournament on September 15th at Centrala IP.
Join us at 2pm for a games between 3pm and 5pm. Afterwards there will of course be food and drinks and good times to be had by all.
The cost of attendance is 100 Skr. All profits from the food and raffle will go to cancerfonden.
Please register your interest with Stefan Landgren: st.landgren@telia.com.