Written by
Ross
on September 28, 2015
Once a year, the youth of the Swedish Rugby Union take part in a festival of our sport at the Swedish Youth Championships (USM) to not just compete against other, but to meet and enjoy playing alongside other rugby nuts!
This year, the tournament was held in Enköping in conjunction with the national team's European Cup test against Belgium. In previous years, Lugi's participation in the event has been minimal due to our lack of youth structure, but this year things were different with the club sending up a total of 14 participants (everything is relative), who played alongside our fellow Skånings from Pingvin (U8s – U16s) and Malmö (U18s).
Our players were as follows:
U18s – Truls Sassner and Joseph Al-Rawi.
U16s – Diogo Soares, Max Andreani, Gustav Kärrholm, Oscar Wahlström, Dag Blomgård, Eskil Bergnehr Smith and Daniel Ringwald.
U12s – Benjamin Wennerlund.
U10s – Joseph Wennerlund, Cedrik Oscarsson, Samuel Löve.
U8s – Maxim Löve.
Whilst the undoubted focus for our players was on enjoyment and their growth as rugby players, both the U18s and U16s made big enough impacts to help their respective teams walk away with SM golds at the end of the weekend, a big congratulations to them all on such a fantastic achievement.
At our lower age groups, reports on how our young Lions performed were glowing, with every child helping their teams to achieve multiple victories through their abilities as individuals as well as their ability to work alongside children they had never met before in a team environment. Fantastic to hear!
We at Lugi are very proud of all our kids on their fantastic achievements this weekend and for us this is just the start for our youth section with our aim being to enter some of our own teams into next year's event. The club would also like to thank all those who have taken time to assist and coach our young players and with special mentions to Björn Wennerlund and Ida Tadić who accompanied our players to Enköping and aided them from pitch side.
Images from the weekend can be found in our gallery.
Written by
Ross
on September 27, 2015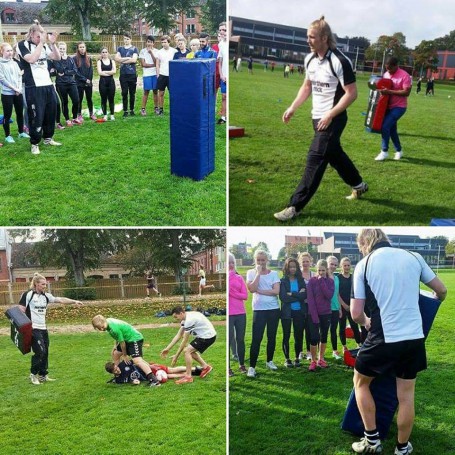 Thanks to the generosity of our players giving up their free time, our club's work with Polhemskolan continued last Thursday as we had the opportunity to show rugby to three more classes of 20-30 pupils from Polhemskolan in Lund.
Our training session with all the schools and organisations that we work with revolve around allowing the participants to experience some of the games cores skills and aspects such as passing and tackling in a fun and safe environment. Those that took part in the sessions all enjoyed themselves and there was some real raw talent on show, so we are looking forward to seeing some fresh faces at our regular training sessions down at Centrala IP.
As always, it's a privilege for the club to be able to reach out to various organisations around Lund and show them a little of what our sport is all about. Thank you to our club members Viktor, Arvid, Anele and Sandra for delivering the sessions to the pupils of Polhemskolan.
Written by
Ross
on September 25, 2015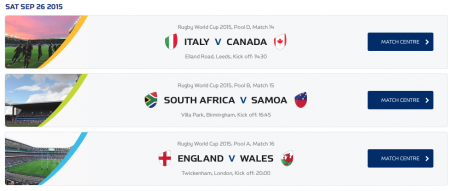 The second weekend of World Cup games is coming up and we are pleased to announce that the clubhouse will be open from 17:00 on the Saturday to show both the South Africa – Samoa and England Wales games. Remember, stream fee is 10 SEK from members, 20 SEK for non members. Looking forward to seeing you all there!
Written by
Ross
on September 20, 2015
Following the Talent Development Program's (TUP) monthly training sessions focusing on the game's core skills, the TUP Skåne boys finally had the opportunity to put all that they had learnt into practice in a game against a Danish team comprised off boys born 98-99. The game was played in sunny Copenhagen and the TUP team consisted of boys from the clubs Pingvin, Malmö and Lugi.
Starting spots were handed to Lugi's Diogo Soares (hooker), Gustav Kärrholm (wing), Oscar Wahlström (first centre) with Daniel Ringwald selected as a replacement.
In a game that saw a fantastic team performance turn around a first half 14-0 deficit into 21-19 victory, pleasingly, our Lions all made a significant contribution on a individual level. Hooker Diogo Soares made his presence felt with a couple of excellent breaks around the fringes of the breakdown, Gustav was on hand to execute crucial and dominant tackles on the wing as well as contributing with his usual elusive running, Daniel showed remarkable assurance with ball in hand for only his second game and Oscar bagged TUPs opening try, having had the awareness to capitalise on the opposition's mistake near their own goal area.
Following the game, the TUP coaches; Paul Wharton (Pingvin), Peter Ahlgren (MRC) and Ross Watson (Lugi) praised the boys for their efforts as a team after the initial rocky start, identifying one of the keys to the turnaround as coming from the boys' ability to make positive tackles, which put constant pressure on the opposition's ability to create effective attacking ball. This would have been particularly pleasing for the whole program, given that 'tracking and tackling' is one of the core skills that the TUP aims to develop in the boys pathway to higher levels of performance.
Footage of the game can be found on Youtube.
From here the TUP program hopes to play a return fixture against the Danish team, before taking on the other TUP regions at a date to be determined.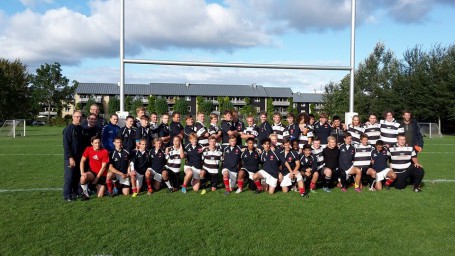 Written by
Ross
on September 17, 2015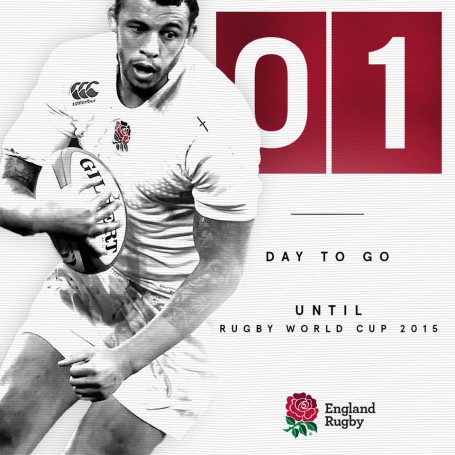 The club will be open and showing the games on the first Friday (England v Fiji) and each Saturday of the tournament. When it comes to the knock out stages, if there's enough interest show, then it's possible that we can open the club on the Sunday's as well.
The exact times the club will be open for each of the days will be published nearer the date, so check out the Facebook page and this site.
Bringing your own alcohol will NOT be allowed.
Entry for members will be 10 SEK for each day to cover the expenses of the stream. 20 SEK for non-members (that means if you bring friends they pay extra).
The streaming schedule for the opening weekend is as such;
Friday 18th September – England vs. Fiji, club will be open at 20:15 with KO at 21:00
Saturday 19th – Georgia vs. Tonga (13:00) & Ireland vs. Canada (15:30). The club will be open from 12:30.
NB. Due to the crayfish party, the later games of the day (South Africa vs. Japan & France vs. Italy) will only be available in the club to those who are attending the Crayfish Party.