ARCHIVES
Written by
Ross
on May 14, 2014
A good start for LUGI with a win against the newly resurrected rugby club, Ronneby. After some panic and confusion about transportation the Lugi Lion's gents were off to play their opening game of the season in Ronneby. The squad of 20 players was a mixture of old, experience, and new (both to the club and to the game). As we entered "raggare" country, the atmosphere amongst the travellers was a mixture of nervousness, anticipation, and fear, as people started contemplating the game against a relatively unknown quantity.
We arrived at the pitch 20 minutes before kick off, and we were told that the changing room is on the other side of town, and that it would be best if we changed at the field, in front of passing spectators. However, there was very little hesitation from the Lugi gents and some even decided to relieve themselves in the bushes to the shock of unexpected strollers (which I believe is highly illegal in Sweden but apparently not so in France).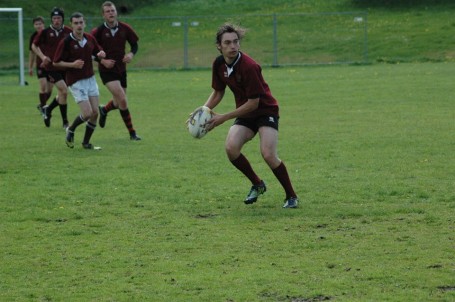 The game started at 15:00 as planned, with a monstrously high kick from Ronneby, but the Lugi forwards were spectacular under pressure and managed to keep their composure. Months of not playing the code of union was evident in the opening minutes, as there were a lot of scrappy passes and knock-ons from the Lugi players. But after that, "the game of the gods" started coming back to the Lions and it wasn't long until Lugi scored their first try through Chris "The Australian" O'Conner after a well executed team play.  From then on, Lugi had full control of the game and the next try came when Laury "The Frog" Renac started conjuring up holes in the Ronneby defense with his pin point passing, sending Chris " The Australian" O'Conner into the try area once again.
Throughout the first half the Lugi captain, Viktor "The Sandman" Cordes, was a dominant presence at the breakdown, stealing balls, and putting players to sleep with his outrageous hits. Other players worth mentioning were our two wingers, Pablo "The Eye" Abril and Fabian "Mighty Mouse" Nyborg, who both danced around the defense like baby Jesus on a pogo stick on multiple occasions. By the end of the first half, fatigue finally got the best of our captain and Conor "Babson" Regan.  They had to come off for a couple of minutes only to come back later in the game (thank god, for rolling subs)!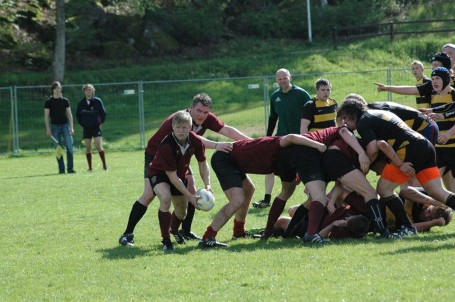 This was a perfect opportunity for Florent" Chabel" Thurin to make his debut in the Lugi maroon, and Jacob "The Beard" Hasselbalch to play his first every rugby game. Jacob "The Beard" Hasselbalch stepped up to the plate and he managed to withhold the shove from the Ronneby pack. From then on, there was very little doubt that Lugi had found a new young prop forward.  The boys scored once again through Sebastian "The Hammer" Hylander smashing his way over the try line. Despite the away sides dominance in the first half, Lugi were only up by three converted tries. Ronneby looked very dangerous when camped within the Lugi half and managed to score a beautifully executed forwards try just before half-time, the half time score 21-5.
Old injuries came back to haunt "The Frog" and he had to sit out for most of the second half as "The Australian" stepped up and played at fly-half for rest of the game. Iain "Ginger" Lednor played outside center, and embraced his inner Sunny Bill Williams by setting up a perfectly performed try for James "The Pie" Webb.
The last 10 minutes of the game saw two Lugi legends returning from injury (ED: what they're legendary for, nobody knows), Linus "Madman" Persson who came on as a flanker, and William "Bum Bum" Bickford who took up his usual post on the wing. Linus "Madman" Persson  had clearly drank his madman energy drinks prior to the game and was a menacing presence on the field for the rest of the game. The last Lugi try came when Iain "Ginger" Lednor gave a perfect inside pass to "Bum Bum" who managed to pop it back to Lugi's back line before Lugi continued to play Fijian style rugby before sending the ball down the line for Tobias "Twinkle Toes" Magnusson to cross over the whitewash.
Unfortunately, the game ended on a sour note for Lugi, as there was a communication breakdown during the restart and no one caught the ball. This allowed Ronneby's number 8 to easily snatch the ball and run towards William "Bum Bum" Bickford, Lugi's last line of defense. With eyes red with determination, the Ronneby number 8 plowed over "Bum Bum", crushing the small wingers pride as well as scoring the last try of the game. The final score when all was said and done, 50-10 to the mighty Lions.
Match Report by William "Bum Bum" Bickford
Lugi Team Line Up
1) Johan Rehnström (LB)
2) Sebastian Johnsson
3) Viktor Cordes (LB) – 1 try
4) Matthijs Mooy
5) Ole Fischer
6) Conor Regan
7) Eden Clayton
8) Marcus Gersbo (LB)
9) Sebastian Hylander (LB) – 1 try
10) Laury Renac
11) Pablo Abril (LB)
12) Chris O'Conner – 3 trys
13) James Webb – 1 try
14) Fabian Nyborg (LB)
15) Tobias Magnusson (LB) – 1 try
Substitutes
16) Linus Persson (LB)
17) Jakob Hasselbach (LB)
18) William Bickford
19) Iain Lednor – 1 try
20) Florent Thurin
*Lugi Born (LB) – Lugi is their first rugby club
Written by
admin
on March 31, 2014
Lugi Rugbyklubbs Årsmöte 2014
Dagordning (i enlighet med stadgarna)
1. Mötets öppnande
2. Fastställande av röstlängd
3. Val av ordförande
4. Val av sekreterare
5. Val av justeringsperson tillika rösträknare
6. Frågan om årsmötets behöriga utlysande och beslutsmässighet
7. Dagordningens godkännande
8. Styrelsens verksamhetsberättelse
9. Styrelsens förvaltningsberättelse (balans- och resultaträkning)
10. Revisionsberättelsen
11. Ansvarsfrihet för styrelsen
12. Medlemsavgift
13. Val av
a) Ordförande (2 år)
b) Halva antalet övriga ledamöter (2 år)
c) Suppleanter (1 år)
d) 2 st revisorer (1 år)
e) 2 st ledamöter till valberedningen
14. Behandling av inkomna motioner
a) Motion till Lugi Rubyklubbs årsmöte angående byte av klubbnamn
15. Övriga frågor
16. Mötets avslutande
Lugi Rugby Club's Annual General Meeting 2014
Agenda (according to club constitutions)
1. Opening of meeting
2. Count of eligible voters
3. Election of chairperson
4. Election of secretary
5. Election of minutes-reviewer and vote monitor
6. Decision on if Yearly meeting has been correctly notified of an decision on quorum exist
7. Approval of Agenda
8. Committee's report
9. Treasurer's report
10. Audit report
11. Freedom of liability for the committee
12. Membership fee
13. Election of
a. Chairperson ( 2 year )
b. Half the number of general committee members (2 years)
c. Alternate members (1 year)
d. Auditors ( 1 year)
e. Members of the nominating committee
14. Treatment of correctly submitted motions
a) Motion till Lugi Rubyklubbs årsmöte angående byte av klubbnamn
15. Any other business
16. Meeting is closed
Lugi Lions stadgar – senast uppdaterade 20140325 (1)
Written by
admin
on May 1, 2013
On the 3rd day of tour (not including the traveling day) was the time finally there to see how prepared the mens team was for the upcoming season. Even though the three days in Amsterdam demanded a lot from us, we still took off to the western part of Amsterdam to play on this beautiful easter day against Ascrum. Because both teams were slightly short on numbers, the decision was made to play ten's instead of the normal fifteen's.
The Lions started convincing, as always, which resulted in a beautiful try after many phases of attack. Shortly after Laury, managed to see a gap the size of Manhattan on the blind side and decided to take a run for it and managed to finish off. David and Victor scored not much later in a combined attempt but this try was cancelled because the referee (and we still don't know why) saw a forward pass in it. This try was for Ascrum the sign to take it up a notch and they scored twice as well before half time which resulted in an equal starting point for the second half. Even though Lugi was camping on the Ascrum Try line for much of the game, it was hard to make it all the way through. The referee for the second half, who made his referee debut, was also not very strict on hands in the ruck (what happens in the ruck stays in the ruck) and so the Lugi Lions saw themselves forced to react quickly, which didn't really happen, when an Ascrum player who played the entire game in an eastern bunny costume managed to take the ball out of the ruck on the Ascrum try line and run with it across the field. Even though the three days of Amsterdam was starting to take it's toll on the Lions, which showed in the further part of the game, Victor still managed to score a try by using his strength to ignore the tackle that was made on him. The Lions finished the game with only nine players after both David and Will had to leave the field due to knee injuries. Lluc Out, one of the few who managed to remain fit all game, was awarded man of the Match, partly due to a flying tackle on one of the Ascrum forwards. The third half was obviously won, but that's something that will remain on tour.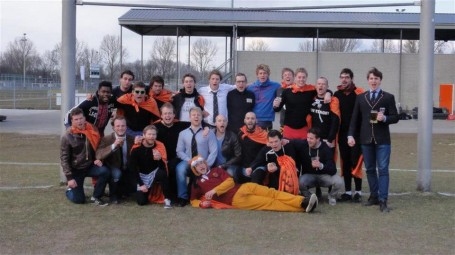 Final score: Ascrum – Lugi Lions 38-26
(written by Gijs van der Poel)
Written by
Jim
on March 22, 2013
Hej All members of LUGI Rugby Club!
Thank you for a long but very valuable Annual General Meeting.
During the meeting a new board was elected:
General Committee Members:
Gabriella Westerdahl, President
Mia-Maria Nordlund
Paolo Cifani
Göran Sterner
Linus Persson
Ana Pejic
Joakim Thilén
Alternating Members:
Digeo Guneot
Emma Lönsjö
Auditiors:
Magnus Andersson
Kristina Petersson
Election board 2014:
Nicklas Andersson, Teresia Bengtsson, Iain Lednor
During the meeting we also voted on the membership fees for 2013.
These are:
Senior full year: 1800 SEK
Senior half year: 1000 SEK
Junior full year: 600 SEK
Old boy full year: 600 SEK
Support member: 300 SEK
Beginners will now need to pay 500 SEK to try out for rugby for 2 months.
The membership fee should be paid at the latest on May 1. Please pay it as soon as possible. We have a no pay no play policy. Becoming a member will also allow you to participate in any of our club events.
Membership fee can be paid to our Postgiro bank account: 797887-7.
This can also be paid in cash to your team manager. Mia-Maria will also try to be down to training and take payments directly. She will let you know when she can do that.
Player who began since January 2013 and have not paid membership should pay a full year or full half year membership. This will cover the last month of training as well. Members who paid full year membership fee during the autumn should pay their next membership fee in July/August 2013.
Looking forward to another year with lots of rugby and fun!
//The board
Written by
Jim
on September 3, 2012
Men's training will henceforth begin at 6pm. This is due to an issue with lighting at Centrala IP.