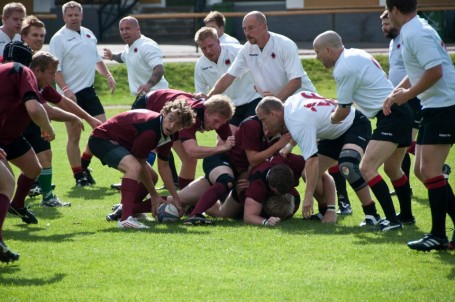 Age: 22
Position: Fly-half, Scrum-half, Full back.
First Rugby Memory: When my father took me to the stadium for France – New Zealand 1995 in Toulouse.
First Try: Last year, Anele broke the line and got surrounded on the wing, kicked back in the middle and the ball somehow bounced in my hands. Then i just had to run 5m and score. Thanks mate!
Pre-game Meal: Pasta.
Fun Fact: If i play scrum-half for the first game of the season, the fly-half gets injured. It's happened 3 times…
Other Interests: Snowboarding and slappin' da bass.
Goal for the Season: To play as much as possible and work on my kicking.
Favourite Quote: I am the master of my fate, i am the captain of my soul.
Favourite Player (Lugi and/or Other): Philippe Sella. When he played, the french flair was still alive… if you want more recent, I'd say Matt Giteau.
Three Dinner Guests (dead or alive) and Why:
Richard Bona, a bass player who seems always happy and he's one of these guys who know how to "play the happiness".
William Webb Ellis, we're going to check this legend !
Daniel Herrero, a former rugby player and coach who's now a writter. He has an amazing view about rugby, a lot of stories to tell, he seems like a really nice and he hates any form of englishness 🙂
Team Mates….
Best Trainer: Iain Lednor. He's always happy to be at training. (Ed: That's what you think…)
Worst Trainer: Alec Zimmermann. He was drunk half of the time, hungover the other half…
Most Skilful: Sam Hutchinson. Probably the best tackler i've played with. He doesn't look big but can destroy guys twice his weight.
The Joker: Lluc Hevia. Seriously, who can play centre and hooker ?! The beard/bald combination might be part of the trick.
Fastest: Gary Foxton. Playing touch rugby doesn't make it easier to stop him, the problem is stil to be able to touch him. Also known as Gary FiveTries…
Most Intelligent: Diego Guenot. He'll have a PhD in atomic physics soon, that seems pretty intelligent to me.
Least Intelligent: Diego Guenot. He tends to forget his brain in the lab almost every day. So if something stupid can be done, the chances of him doing it first are usually big.
Worst Dress Sense: Adam Borg. He has at least 4-5 different pairs of rugby socks. All of them seem to come directly from the 60's.
Best Dress Sense: Tobias Magnusson. He always wears a tie on game day. Classy.
Worst Taste in Music: Fiyin Olayisade. I think he knows by heart the lyrics of any crappy hiphop song you could think about.
…Who's Longest in the Shower: Dorian Bugnot. Singing and clapping the rythem of 15 minutes long jazz songs probably doesn't help.