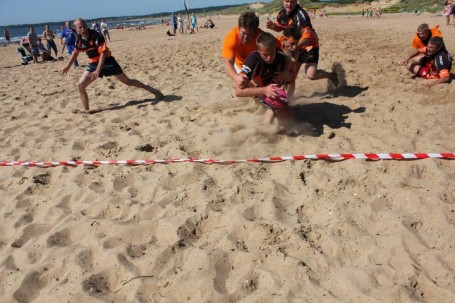 Age: 24
Position: Mainly hooker, though I've been used as a utility player for most of my career.
First Rugby Memory: Maybe not so nice, but it's picking on one of my friends who was playing rugby just so that he could say that he was playing rugby and sound tough, he missed games on purpose because he didn't dare playing… but he's one of the guys who took me to rugby  so something good came out knowing him.
First Try: For Helsingborg against Copenhagen Exiles in 2007 I think.
Pre-game Meal: Yoghurt with cereal or sandwiches.
Fun Fact: Been working part-time in a warehouse handling nothing but bananas since I turned 18. First day at work, about 6.15 am on a Saturday, ended up at the ER after I managed to put a knife in my leg.
Other Interests: Movies, reading, gaming
Goal for the Season: Beat Helsingborg (or at least score a try against them)
Favourite Quote: "The first rule of Fight Club is: You do NOT talk about Fight Club"
Favourite Player (Lugi and/or Other): Wilkinson
Three Dinner Guests (dead or alive) and Why: No idea (ED: Not even Malin???)
Team Mates….
Best Trainer: Viktor or Tobbe, they seem to be at every training.
Worst Trainer: Johan S, since I only think I've seen him a handful of times the last year.
Most Skilful: Laury or Iain on a good day.
The Joker: Lluc.
Fastest: Tobbe if it's a straight line otherwise I'd say Pablo if it involves running around and zig-zagging.
Most Intelligent: No opinion.
Least Intelligent: Fabian hasn't had his brightest moments when I've been around but he may be fooling me.
Worst Dress Sense: The rainbow jersey Matthijs has been wearing deserves a mention but I'm probably not the one to say anything as I have a bright pink Stade Francais jersey that I wear myself sometimes.
Best Dress Sense: I don't have a fashion sense so I'll just leave this one.
Worst Taste in Music: According to my girlfriend it's me. I listen to most kinds of music so I usually find something good in every playlist
…Who's Longest in the Shower: I try not to stay in the showers for too long so can't say