Lugi RK vs HRC Gripen, April 30
The first game of the Division 1 season was played on Saturday with the Lugi Lions hosting Helsingborg. A large crowd joined us for the game, a jovial mix of Lugi family, friends and old boys, as well as a few drunken Valborg strays. The atmosphere was fantastic all day, and I hope people enjoyed the close fought game and the beautiful Spring weather well apart from the raucous chaos at Stadsparken.
Kickoff was at 1pm, and from the outset it was clear that Lugi had their work cut out for them. Helsingborg attacked at pace both in tight and out wide, with fly half Erik Arvidsson contributing some clever tactical kicking. Lugi held fierce despite long stretches spent camped in our own 22. And our determination was rewarded. Helsingborg frustration turned to infringements at the ruck, something that referee Tomasi "The Master Blaster" Tamanivalu kept close eye on all day.
Twenty minutes into the game "Couch" Watson went down after a zippy counter-attack and had to be helped from the field. The Lovely Lugis trust that this injury will not hamper him too much on or off the field when he returns to England – by all accounts it hasn't effected his behaviour too much here in Sweden. While Ross was replaced by the even-headed Lugi veteran Sylvain Touze, his loss damaged composure in the outside backs and we did not look comfortable under the high ball for the remainder of the match.
At this point the rugby slowed with both teams committing too many players to the rucks. While no one (barring the English) enjoy this kind of rugby, slow ball gave "General" Andy Mackay time to marshall Lugi's defensive troops. And once our line was set, one-on-one defense was formidable. Players from both teams threw everything into the contact. Forwards were brought down close to the rucks and Helsingborg had little luck attacking at angles – an experienced back row will cut down the 1-2 switch every time. Lugi struggled however, to keep up in the loose and out wide, with Helsingborg outside centre Sergiu Stroie proving elusive throughout.
For the Lugi boys the day belonged to the forwards.
Early scrums showed massive improvement on what we brought to the park against Göteborg only two weeks ago. With no change to the prop and second row combination we were able to secure our own ball and disrupt our opposition's. Players clearly benefitted from training on the scrum-machine, but there was also an improvement attitude – every time the whistle was blown one could almost see the glint light up in Tadas "Brandy" Valutis' eye.
Depth in jumpers proved a godsend in the lineout, where, despite missing three of our tall timber we were able to compete and win many of our balls. This was thanks, in part, to some smart rugby from Magnus "Gammeldansk" Andersson and Olof "Coach" Carlsson. These experienced heads forced numerous penalties in the first half by faking the otherwise brilliant Helsingborg jumper Sylvain Masson.
Some avowedly more dubious tactics were also deployed to disrupt Helsingborg in the air. At one point this was backed up by some opportunistic loose forwards rugby to put yours truly under the posts. Sadly Tomasi was having none of it and promptly called the ball back to the lineout for a penalty. While this was no doubt frustrating for Lugi's fans the passage lit a smile on my face. Good players constantly test the limits of what they can get away with. We were unlucky to get caught this time, but such risks often set the tone in tight games.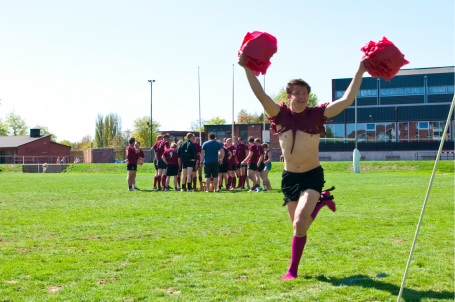 The half-time entertainment from Hannes "Bring It" Ollig was brilliantly disturbing. Although taking the weekend off rugby to [paraphrasing] avoid suffering ungodly damage to the face before his upcoming wedding, Hannes nonetheless graced us with his presence. (I must admit that I stole a few glances his way despite reprimanding others for doing likewise.)
The somewhat distracted coaching team proved a bit slow in gathering their thoughts and announcing their substitutions to the midfield huddle. This is something for which I feel partly responsible. In coming weeks I think we will be well served by having someone on the sideline keeping charge.
Despite this, the Lugi boys came out fired up in the second half, keen to peg back Helsingborg's three point lead. This early momentum was turned into penalty goals as Tomasi continued to police the breakdown. "General" Mackay slotted six quick points and we took the lead.
Halftime changes to jumpers in the lineout proved damaging to our ball security in the air however. We were sloppy at two and had balls stolen from us at four. Helsingborg used their dominance well, mauling us over the line for their first try of the day.
This week we will add a few variations to the lineout that will hopefully give us options with the ball as well as the flexibility to react more quickly to changing conditions.
Our backline looked stable with "Coach" Carlsson at inside and "Comrade" Qolicokota at outside, but it can be better. We need to find a centre combination and go with it. A lack of communication between players unfamiliar with each other's styles of rugby has so far proven a sticking point for Lugi. Between Andy, Olof, Kalle and Sylvain we have a lot of leadership and experience in the backline. To be able to combine English, Swedish, Fijian and French rugby effectively however requires that we get our combinations set at training. This lack of backline communication cost us not only momentum in attack but also in defensive organisation from the set piece, and, ostensibly, the second try to Helsingborg.
Down 6-13 with fifteen minutes to spare and things looked desperate for Lugi. While we had conceded few penalties to that point, defending for so long wears down one's discipline. And then "Thor" Cifani unleased his fearsome Viking rage – that red battle veil that descends and obscures all better judgement – meting out penalties and black eyes all over the park. But he wasn't the only only one and we were very lucky not to lose players to the bin.
Mastering our passion we soon after found ourselves on the Helsingborg line. A couple of risky decisions from scrum half "White Line" Thylander failed to pay off, and a fumble in the back line cost us another great scoring opportunity. But then the call was made from the "General", keep it in the forwards.
We pressed them again on the line. Helsingborg defended well, pushing up quickly. We failed to make ground. Tomasi blew his whistle and we came back for the advantage. Offiside. Lugi ball. "Richie" Lednor took the tap. Helsingborg were slow to react and our man backed himself and scored on the outside. 11-13.
From the restart the ball sat up perfectly for our loose forwards. In a reversal of our disallowed first half try, Iain and I linked up to evade Helsingborg defenders and win thirty metres from the game line. A quick pick and go in the forwards was followed by a line of easy hands to put "Moneyman" Mäki over in the far corner. Lugi edged in front with one of the strongest team tries I've had the pleasure of being involved in.
And so, at 16-13, the "General" punted the ball out and the final whistle blew. Rugby is a game of 80 minutes and despite being pinned down for the first 70, we escaped with the win. There are any number of things we can thank for this – strong defense, tenacity in the back row, leadership in the backs, luck, the crowd – but I think what it really came down to was depth. When substitutions were made Lugi did not let up the intensity and simply proved more fit at the end of the day. So for those lads who didn't play a full game, cheers for your patience and your commitment to the team.
Thanks also must go to the Lugi Ladies for the hamburgers, to "Zinzan" Leishman and "Big" Dan Hurst for helping out with coaching and to "Grimey" Brown for running touch.
Final score: Lugi 16, Helsingborg 13. Tries: Iain Lednor & Miike Mäki. Best on: Magnus Andersson.
Training tonight is at 6pm but naturopath David Havia will be available to look over aches and pains from 5.30pm. We have two weeks before our next match but plenty to work on.