The 7 a side Swedish Championships, 1-2 of July 2011
 It was a Friday morning and a team of twelve players and two coaches entered Halmstad, this years host city of the 7 a side Swedish championships. The weather was good, cloudy but warm and almost no wind at all. In swedish we call it "riktig svenskt sommarväder". The team consisted of Malin Olofsson, Martina Vivlund. Emmy Westerdahl, Mia-Maria Nordlund, Anna Thynell, Anne Franzén, Gabriella Westerdahl, Teresia Bengtsson, Caroline Lindberg, Louise Ericsäter, coach Stefan Tunfors and assistant coach Kerstin Lövendahl, the dream team if you ask us.
This match report is going to be a little bit different from the previouse ones. This time the story is going to be told by two of the newest members of the ladies team. Not only are we going to tell you the story about how we came together as a team but also how we recaptured the spirit of the game, had plenty of fun and played some top quality rugby. We are also going to tell you our personal views of the two days, the view through the eyes of our two beginners and combine it with details that our assistant coach, Kerstin Lövendahl, wanted to share.
Our first game of the day was against the reigning Swedish champions, Göteborg. As the second best team from the qualification rounds in the south of Sweden, it was a really confident Lugi side that took the pitch. We had both a physical and psychological advantage during the whole game, but it took a couple of minutes before we could cross the try-line for the first time. Emmy Westerdahl (who played prop during this game) got hold of the ball, rounded the defensive line and easily scored her first try of the weekend. Our defense was almost flawless and the tackles were good. It wasn't the perfect game, we didn't use our fastest players as we could have but we took all the chances that were available to us and took advantage of all their mistakes. Mia-Maria Nordlund won several meters with tricky runs and Emmy Westerdahl easily passed the defensive-line once again and put Lugi in the lead with 10 points. Even if we were in the lead the team from Göteborg never gave up. They played very good defense and applied a lot of pressure and before the referee blew the whistle they managed to break through our defense for a try. Final result; Lugi 10 – Göteborg 5.
After only an hours rest we had our second game of the day, this time it was against the team from Malmö. It was expected to be a tough and even contested game, and it did not dissapoint. None of the 14 players on the pitch wanted to give their opponent a chance to score and you could feel the fighting spirit in the air. We started out a little over aggressive, our defense faltered at some points which the experienced team from Malmö managed to exploit to score a few tries. However, as the game progressed we started to play as a team again. Everytime we had the ball we aimed for the try-line which resulted in a couple of good runs; but the gaps were too small and our support wasn't as good as it should have been. But we didn't give up. We fought through the entire game, made a lot of great and fierce tackles which forced Malmö to work even harder to score. Final result; Malmö 25 – Lugi 0.
Our third and final game of the day was against Attila, the team from up north that had dominated this years 7s tournaments. Both of the teams played some really good 7's rugby, but Attila just had that slight edge over our girls. They played a varied game with dummy-runs and other feints and didn't make it easy for the already fighting Lugi ladies. We had a couple of good attacks and our captain Anna Thynell made some good decisions and great passes to her backline which resulted in a couple of good runs from Martina Vivlund. In this game Lisa Hultén made her debut as hooker and she did so with aplomb. Despite some good attempts at reaching the try-line we didn't manage to score any more tries that day, but we played good defense and put a lot of pressure on Attila. Final result; Attila 40 – Lugi 0.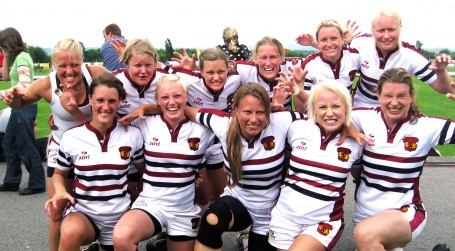 The second day of the Swedish championships was all about the playoffs. We played our semi-final against Malmö (again) but this time Malmö faced a different Lugi. It was a Lugi with more self-confidence and power. Gabriella Westerdahl was one of the players that stepped up during this game. Her tackles were filled with power and aggression and the opponents didn't dare to go near her. She played like a true Lioness but had to be replaced because of pain. Louise Ericsäter took her place and did a great job. The whole team was fighting, and this time we were fighting together as a team and not one by one. We were all determined that nobody was going to get passed our defensive-line and we played as true Lionesses forcing Malmö backwards as much as we could. Despite having Malmö contained to their half of the pitch for the whole first period, we didn't manage to score any tries. We had some trouble with the referee. We tried to make a substitution but during the change the head referee re-started the game and despite scoring a try, it was later  disallowed due to too many players on the pitch. A mistake by the referee that cost us the lead and the first try for the game. Instead Malmö took the lead in the beginning of the second period. But that didn't stop us from fighting. Teresia Bengtsson, Anna Thynell and Louise Ericsäter were close to breaking through the Malmö defense and Emmy Westerdahl and Martina Vivlund made a couple of decent attempts to get passed on the wings but couldn't get passed the great Malmö fullback. Final result; Malmö 17 – Lugi 0.
Even if we lost this game we did everything right. We played a fantastic defense and Malmö hade a very hard time trying to break through. Caroline Lindberg and Malin Olofsson were all over the place (in a good way) and tackled everything that moved. A lot of people were impressed by our game and so was Malmö. One of us heard them say that we are the worst team they've ever played against and that we are all over the pitch and never give them any space to move in.
Since we lost this game we didn't make it to the final. Instead we had to face Göteborg once more in a game for the third place. It was our last game and we had nothing to lose. It was a confident and strong Lugi team that entered the match, all hungry for revenge. We brought the energy from the game that we just lost and owned the game from the beginning to the very end and we didn't give Göteborg any chances to turn the game to their advantage. We won all the scrums and our prop Anne Franzén showed us some great skills and hard tackles. We were the strongest, fastest, and most sustainable team this day and Göteborg didn't have the power to stop us. All of the seven players on the pitch did what they were supposed to do. Anna Thynell worked hard and managed to deliver great passes in the gaps that she had created. The ball was played safely all the way through the backline down to the wing Martina Vivlund who didn't hesitate a second once she had the ball in her hands. She took a step to the side and ran as fast as she could and managed to cross the try-line between the posts. It didn't take long before the second try was scored, and Martina Vivlund was involved once again. After a good run by Teresia Bengtsson and  nice off-load by Martina Vivlund, Teresia Bengtsson could easily round the last defender and cross the try-line for the second time. Our third try was made by the lion tackler, Malin Olofsson and after the first period Emmy Westerdahl was put on the pitch and easily gave us our last 5 points. Final result; Lugi 24 – Göteborg 7.
Since our assistant coach, Kerstin Lövendahl, stod by our side during the whole tournament she wanted to give a special thanks to every player and tell us a little bit about  their addition to the games of the weekend:
Thank you Captain Anna for great leadership and team spirit. You have become a great player this year with excellent passing and tackling skills and nice breakthroughs. You always do such a good job that we accidently forget to give you the credit you really deserv.
Thank you Gabriella, when the locomotive wakes up inside of you, no one can stop you. It's awesome to see your warrior face and determination. No one gets through our defensive-line at the same time as you can walk right through theirs. Your passes were also great this weekend.
Thank you Teresia for playing with us! You made a good job in the back line as in the scrum. You're safety itself and we can all tell that you like 7s. Great job!
Thank you Karolina for your addition to the team this weekend. You didn't play much but we were very grateful to have you. The minutes you played, you did very well with good hands and strong tackles.
Thank you Louise. You could unfortunately not be with us during the first day but it was nice to have you back from your illness. You bring the team important routine and determination. You win meters running in tricky angles. Continue to get well.
Thank you Martina. Its hard to believe that you are still only a beginner on the rugby pitch. You wouldn't be able to tell if you didn't know. You have a "spelförståelse" as if you have played for years. You are dangerous every time you get the ball and you bring fear in the other team when defending. As soon as the team has gotten to know each other better your runs will start to pay off and you will go from a dangerous player to a vital star.
Thank you Emmy for the weekend. Your tackles are as hard as if they came from a cannonry, its fantastic to see. And you can round any defense we meet. You have well-deserved the attention from the nationalcoach!
Thank you Malin for brilliant playing. I know that you're always secure in both defense as offence, but this time you played better than we have ever seen you. Your passes from the scrums were magical. You had good speed and your defends was insanely good. I am very impressed and I can't wait until next time I get to see you play!
Thank you Anne for you energy on the pitch. You tackle a lot and always aim to win field and you never stop until you do.
Thank you Caroline for your fighting spirit in all of the games. You continue to improve in every game you play and you are fighting like a true lioness. You take responsibility for your own tackles, your team mates tackles and you are always there in support when needed.
Thank you Mia-Maria. You showed us routine in both defense and offense and took great responsibility on the pitch. Your team mates could always see you and hear you during the games because of your great communication. It's a pleasure to watch you play.
Thank you Lisa. You played one of your first games and you did an excellent job. You're not the biggest girl on the pitch but you are hard as stone and you have an endless energy. You are going to enjoy rugby more and more for every time you play.
As you all know, we are retired athletes and have been competing in the Swedish championships many times before. It was a lot of fun and a great experience but nothing can be compared to the 7 a side Swedish championships. The happiness you feel by winning a competition on your own is a very special feeling but to win a tournament together with your team is so much greater. Even though we ended up at third place we left Halmstad as winners. We proved a lot of things to each other and to rugby-Sweden; it's tough to be our opponents and you don't need a team full of players from the national team to play good rugby. All you need is a great team spirit and confidence, and that's what we had.
Another Lugi-member also received a very special price. Thanks to excellent refing during the whole tournament, Paolo Cifani got rewarded as the best referee. Congratulations!
We want to give a special thanks to our coaches, Kerstin and Stefan. We couldn't have done it without you.
With LUGI LOVE everything is possible!
Emmy & Martina