Lugi RK vs. Stockholm Exiles, August 6th
The fifth chapter of our 2011 season took place in Lund, in our second home game. This time we were facing Stockholm Exiles, a team well known for their fast and fierce players. It was the 6th August and it was our first game after a three week break from rugby practice, well deserved if you ask me. The weather was perfect, warm and almost no wind at all. We entered the pitch with 15 players, new personal goals, great self-confidence and with the mind set of have fun no matter what. As some of you readers might know, I was one of the 15 players on the pitch this day and I find it hard to remember details about the game and how we played. I'll try my best to tell you an over-all story about the game and its highlights.
As the starting whistle blew we all put our warrior-faces on, we were going to fight as if it was our last rugby game ever. We kept the good spirit alive during the whole game and for some parts during our 80 minutes we played some really good rugby. Our scrums were really good, even if we had two completely new props (well done), and the rucking had improved a lot since the last game. The back-line had some really good breakthroughs but it was really hard to get passed their skilful and fast fullback, Amanda Sandsborg.
The second half of the game started out very well for the Lugi ladies. The referee gave us a penalty and Teresia Bengtsson managed to kick it between the posts which gave us 3 points. This gave us a huge boost resulting in a superb defensive play. The game progressed very well as time went by but in the beginning of the second half the team suffered a great setback. Our center Emmy Westerdahl suffered the same fate as Welsh International Morgan Stoddard by breaking her ankle, an injury that will put her in a cast for 6 long weeks. I know that with the right people around her and the right support she will recover fast enough to be able to practice with us again soon!
Even if the whole team were shocked by the terrible accident we didn't let it affect us. When play restarted it didn't take long before Mia-Maria Nordlund threw herself over the tryline to secure another 5 points. Even if Mia was the one to plant the ball on the ground, this try was a true team try thanks to great communication and true teamwork.
What made the big difference in the end was our lack of ability to read the game and to support each other. We also had too much respect for Exiles and gave them a lot off free space to move in. I know that all our mistakes can easily be sorted out by a lot of practice and some more experience.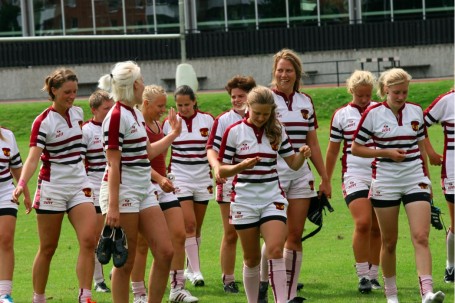 To sum up this short report I, together with or vice captain Kerstin Lövendahl,  would like to give a special thanks to each and every player that fought throughout the whole game:
Thank you Caroline. You played your first game as a prop and you did a great job! You also did some great running with the ball and showed no fear!
Thank you Frida. Our last-minute hero. Without you we would've had to play with 14 players. Your great experience made a huge difference in the front row and on the pitch.
Thank you Cicilia. It was your first game with the ladies team and also your first game as a prop. You managed to keep a smile on your face for 80 min and you did everything that you were told to do!
Thank you Gabriella. You had so much power today and you managed to transform that into strength, a strength that we really needed today. Even if you were tired you never stopped fighting and gained a lot of meters.
Thank you Louise. Todays captain with a big responsibility. You played very well with a lot of good runs. Unfortunately you had to leave the pitch with only 10 min left to be in time for a wedding. We missed you!
Thank you Maja. You played your first game ever and you did it as a star. You had to try three different positions and you did it very well and your tackles were great.
Thank you Mette. How much energy does your body contain? Super hard tackles, always in support and many fast played penalties that helped us a lot. It's wonderful to have you in our team.
Thank you Mia-Maria. You kept a high standard during the whole game both in defense and attack. You couldn't tell that you were playing with a broken finger and your try was superb.
Thank you Malin. You were controlling the game with "järnhand". You kept a good spirit through out the team and your passes were flawless.
Thank you Teresia. You played your first game as a 10. We all know that it is not an easy task but you nailed it. Great passes and a beautiful kick that gave us our first 3 points in this game.
Thank you Emelie. You played your first game with the ladies team and you did a good job. You were in pain but managed to get some good tackles and good support for the team.
Thank you Emmy. Great speed, wonderful side-steps and hard tackles. You won a lot of meters and were really hard to stop. Unfortunately your game had to end too soon but we know that you will be back better then ever after the healing process!
Thank you Jorun. You tried out the position as center and you could tell that you liked it. You did it very well and made some good runs.
Thank you Ellen. A winger from Speed that played her first game for Lugi. You contributed with good hands, good speed and some good tackles. We hope that you'll play for us again soon!
Thank you Martina. It was a really tough game for our fullback. You did your best trying to stop the exiles girls but they were always more then one coming towards you. You didn't make it easy for them to pass you and you made some good tackles. Many good kick-offs and great direction of the defensive-line. It feels safe to have you as a fullback. 
Even if we lost the game with the final result 8-81 we managed to keep the good spirit throughout the whole game. We reached almost all our goals and we had fun and that's all that matters right now. We know that we have a lot to work on and it will take a long time before we reach the top. But we all know that practice makes perfect and for each and every game we play we will get better. The only thing that matters is that we fight together as a team and never lose our love for the game.
"Alone you can lift a stone but together we can move mountains "
Martina