Match Report: Gents vs. Vetlanda
Lugi continued their winning ways with another away victory against Vetlanda Rugby Club. The players met at the Lion's Den on Saturday and everyone was enthusiastic to play but even more eager to get back to Lugi's home for the post game beer pong tournament.  We  left the sister city to Gomorrah (Lund)  around 11:30 heading, to God country with 18 players nicely packed in two mini buses with three cases of beer and a bottle of the vile Danish piss known as Gammel Dansk.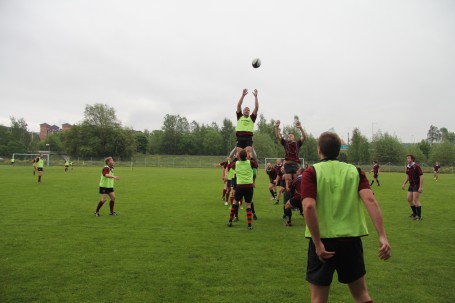 After a three hour drive we finally reached the rugby pitch which was on the outskirts of a wet Jönköping. The rugby gods blessed us with perfect rugby conditions as the pitch was soft and moist, ideal for our "playing the ball wide" game plan.  The game started with a kickoff from Vetlanda, which was easily collected from our forwards; from then on, things didn't go as planned. Bad decision making from Lugi resulted in Vetlanda easily retaining the ball and they continued to control the game. After a couple of line breaks from Vetlanda's backline, Lugi soon realized that they could easily lose, and that they needed to get their heads into the game. Luckily for Lugi, Chris "The Australian" O'Conner spotted an opening in the Vetlanda defense and managed to score a try under the posts. The rest of the Lugi players woke up and Lugi started playing their famous style of rugby.  The next lugi try came from a set play where the ball was passed along the line until William "Bum Bum" Bickford stretched over to score the try.  Fitness however was not on Bum Bum's side that day and he had to leave the field, giving new Lugi Lion Anthony "The Scientist" Hawkins a chance to prove his skills in maroon.  Victor "The Sandman" Cordes was bumping players left and right, creating perfect off loads for his fellow forwards, which resulted in Sebastian "The Undertaker" Johansson  driving over the white line and leaving the halftime score at 19-0 for Lugi.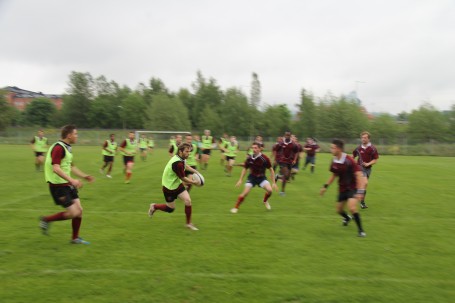 Lugi continued with their game strategy of playing quick ball throughout the second half, increasing their lead against Vetlanda.  Carl "The Wrecking Ball" Lindblom crashed over a couple of times after running great support lines. Iain "Ginger" Lednor caused havoc on the field both defensively and offensively. He ran around players with his lighting speed, and created space with his awe inspiring agility, which allowed Paul "The English Bulldog" Brazier to score in the corner.  The one player who dominated in nearly every aspect of the game was man of the match Anele "The Belly" Gela. He repetitively broke the gain line and was a constant threat to Vetlunda with his crushing bone breaking tackles. It was thus fitting that after he danced around like a trailer park stripper; he scored the last try of the game.  The final score 76-0.
Team Line Up
1)Jocab Hasselbalch LB
2) Sebastian Johansson, 1 Try
3) Victor Cordes LB
4) Matthijs Mooy
5)Carl Lindblom 2 Try
6)Anele Gela 1Try
7)Conor Regan
8)Iain Lednor 3 Try
9)Sebastain Hylander LB
10)laury Renac
11)Fabian Nyberg LB
12)Chris O'Connor 2 Try
13)William Bickford 1Try
14)Paul Brazier LB 1 Try
15) Tobias Magnusson  LB
16)James Webb
17)Anthony Hawkins 1 Try
LB Lugi Born- Lugi is their first rugby club