Mican, Martina and Sweden find it tough going in Moscow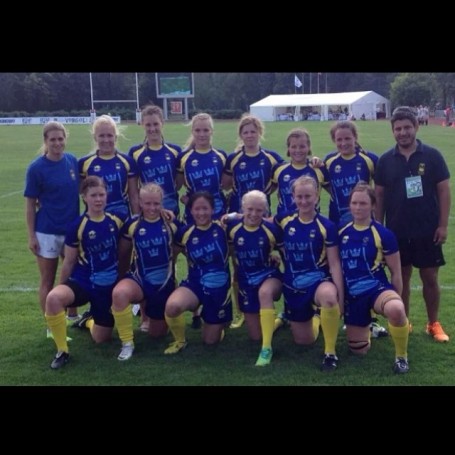 Faced with a lack of playing time as a unit and prior tournament experience as well as the best teams in European 7s rugby, the first round of the FIRA-AER Women's Grand Prix Series in Moscow was always going to be a daunting task for the fledgling national side and our two girls Martina and Mican.
To put into context the task that faced them, during the time that the women's 7s side has been outside of the top division of rugby, the sevens form of rugby has seen an explosion in popularity and media coverage, especially when it comes to the women's circuit, with the start up of their own IRB Sevens World Series. With the 2016 Rio Olympics on the horizon and the inclusion of sevens for the first time ever in the Olympic program, the funding and resources that has been placed behind all of the top 12 teams has been immense. Unfortunately, the same cannot be said for the game here in Sweden, which consequently sees our ladies competing against semi-professionals who regularly compete against the best the world has to offer whilst still being restricted to amateur status in their approach, a tough assignment indeed.
With that said, at the end of the tough weekend and having lost to German in the 11th-12th place match, the national side was unfortunately winless, despite having left everything on the field.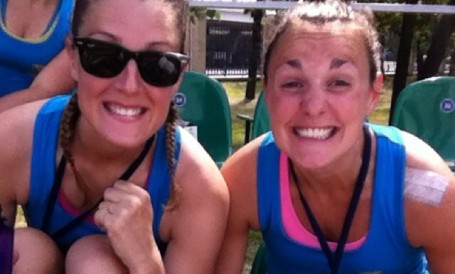 From a Lugi perspective however, the weekend marked just how much the ladies have developed in their 7s game. With both Mican and Martina receiving major playing time and forming somewhat the core of the side. Highlights of the weekend included Mican's massive line break and ball stealing ability whilst Martina scored her first ever try for the national side to open Sweden's account for the tournament against Italy. This has surely been an eye opening experience for the girls to see what it's like to truly step up to the top level and the club is proud of their achievements.
Martina – "I loved it today, it's been great even if we have lost them all. I wasn't nervous and never afraid."
The girls will now spend a few days recovering in Enköping before moving onto the second and final round of this year's GP series next weekend in Brive, France, where their group will once again include Russia and Italy as well as the strong Spanish side.
Mican – "And this time we'll beat Italy!"
We wish the entire team good luck next week and will be cheering everyone on.