Match Report: Gents vs. Pingvin B
https://www.youtube.com/watch?v=vWQ3XCurqlY&feature=youtu.be
Match Report by Joacim Thilén
Since the third half was long and wet, today's report will be a bit shorter…
Saturday's game could have become the game that would be called the comeback of the year or even the decade. In the first half Lugi where struggling to keep the defensive line especially when Pingvin shifted the ball across their backline. This resulted in several tries that all were converted.
Not helping in the first half was a yellow card given to myself. No need to take the details, but it was a fair call and stupidly made by me.
After a hard first half that ended 28-0 to Pingvin. In the paus Lugi talked a lot about keep fighting and not giving up. From the sideline it was also clear that Lugis attack was effective as long as we cut out the mistakes.
For the second half most of the bench was subbed in. Its interesting how much easier it is to see the weak points when you are on the sideline. So the new players coming on knew what had to be done to stop the try-machine Pingvin.
In the second half Lugi really fired up and started to play with the passion that the game required. The centers started to put in some serious tackles in the backline which was very effective to stop Pingvin attacking. Lugi also started to stick to the game plan that has been worked on. Several planned moves were executed with accuracy close to perfection. And now this was starting to show on the scoreboard.
In the last play of the game Lugi had the ball and the score was 29-33 in advantage of Pingvin. Lugi worked hard to try once again to steal the candy from the children. Unfortunately Pingvins defense stepped up and the final whistle was blown.
Final score 29-33 to Pingvin.
A round of applause should go to the following:
The two headgeared South Africans who showed how rugby should be played.
The surfer, who makes it look so easy to run around an entire team by yourself.
Björn Davidsson for running the touchflag on the far-side. Its small thing to do, but its a great help to the team!!!
I hate to loose. The only thing that comforted me in this sad moment was the fact that Lugi stepped up big time in the second half and never gave up the game.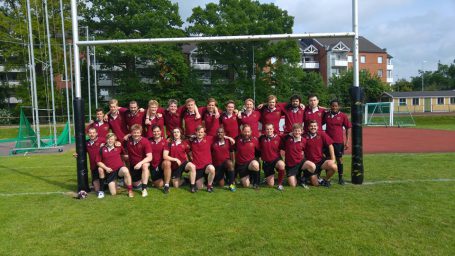 Tries:
Viktor Cordes 2
Anele Gela 1
Jordan Foster 1
Francois 1
Conversions:
Tobias Magnusson 4 points