Lionesses Win Three in Ronneby
The first round of this year's Gota Series saw ten Lionesses travel up to Ronneby to take on the hosts, Kalmar, Wexiö and Borås in the shortened version of the game. Along with our new players Amy and Sandra excited for their first ever rugby action, captain Mican couldn't wait to get back onto the pitch after a long rugby lay-off to rehab her shoulder.
The footage from each game is included below in this report, but overall the ladies put together a great day of rugby despite being a little undermanned and with a couple of players ailing for various reasons. Our traditional slow start saw us drop the first game in a tight contest against Kalmar, a game that I know the girls would like back and which on another day, one which we would have won. The main takeaway from the loss was that it wasn't our structure that was the problem, but just a little bit of inexperience and execution problems at the business end of the game that let us down, something that we will only develop with time.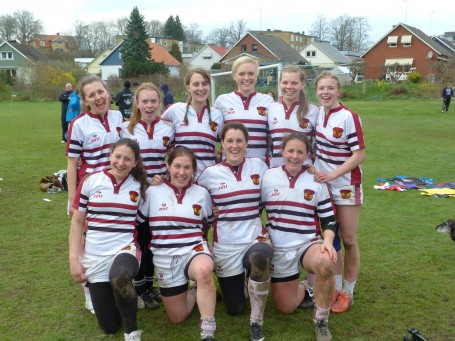 However, from that loss, we responded by playing some fantastic team rugby throughout the rest of the day, with the highlight being our support play, a key in the game of sevens. The work rate of every girl meant that the scores were shared out fairly evenly across our team and being one of the reason why we ran away somewhat with the games against Ronneby, Wexiö and Borås.
Whilst the competition is not the toughest we will face in Sweden, the standard on the day helped us ease our newer girls into action and is a vital tune up before the next SM qualifying round on the 26th April in Trelleborg. The girls can be very proud of all their performances and deservedly went home with huge grins on their faces and lots of Lugi Kärlek in their hearts.
Team: Malin Andersson, Olivia Maunsbach, Sandra Olofsson, Amy Rice, Linnéa Roslund, Mican Rydén, Elizabeth Sonnenholzner, Anni Törhönen, Anna Thynell and Martina Vivlund.
Ross Watson – Ladies Coach
Lugi vs. Kalmar
Lugi vs. Ronneby
Lugi vs. Wexiö
Lugi vs. Borås