Ross Featured of Union Website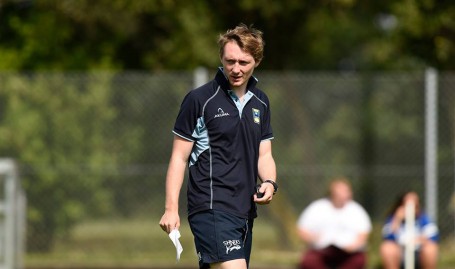 In the run up to Christmas, the SRF are featuring a different volunteer within Swedish rugby to highlight the work that goes on behind the scenes of our great sport. On Sunday, our ladies coach Ross Watson was chosen for the honour for his role as the TUP coach in the South. His interview is featured below and can be found on rugby.se
The club would like to thank all those within Swedish rugby who give up their time to push the sport forward and we hope the stories featured on the Union's website inspire more to rally to the cause.
Namn: Ross Watson
Roll i förbundet: TUP-Syd tränare för pojkar och tjejer
Ålder: 25 år gammal
Ort: Lund
Yrke: Student
Klubb: Lugi
Rugbybakgrund: Har spelat sen jag var 11 år både skolan (Bury Grammar) och klubb (Sedgley Park). Representerade Manchester Districts och Lancashire under åldrarna 14-17. Spelade i Lugi som utbytesstudent i 2010 och har tränat damlaget och överallt i Lugi sedan 2012.
Bäste rugbyminne: Att vinna Lancashire Cup med mitt klubblag när jag var 16. Vi hade förlorade i finalen de två tidigare åren och det var den sista chansen att ta det innan seniorsrugby.
Vad innebär din roll i förbundet, vad gör du?
Som tränare för TUP tar jag del i att planera träningspassen för månaden och utför dem. Det låter ganska enkelt när man skriver det men jag och de andra TUP tränare måste diskutera hur passet ska se ut på ett möte i förväg för att alla pojkar och flickor, oavsett vilken spelnivå de har, ska ha möjlighet att delta i passet, ha kul och utvecklas. Det kan var svårt att hitta på nåt som passar alla men det är den roliga delen.
Vad får dig att vilja ge av din tid för svenska rugbyförbundet?
Spelarna och folket. Jag vill se alla som vill ta en del av rugby utvecklas, både personligen och som spelare, oavsett vilken klubb eller nivå. Det finns mycket mer att skriva här men i Sverige finns det inte många möjligheter att utvecklas som en rugbyspelare. TUP är en av de plattformar som kommer driva svensk rugby framåt. Jag vill vara en liten del av förbättra svensk rugby för alla.
Vad är den största utmaningen för svensk rugby?
Att tro på vägen den svenska rugbyn tagit. Det finns många olika åsikter om vad som händer i svensk rugby men det känns som att något bra pågår men då måste alla dra åt samma håll.
Var hoppas du att Svensk rugby är om 10 år?
Jag hoppas att varje klubb har någon form av ungdomsverksamhet och att rugby finns som en del av skolverksamheten.
Varför rugby är världens bästa sport?
För att det är en sport som har allt på och av planen. På planen måste man vara stark, snabb, bra med händerna, kunna tänka snabbt och framförallt tro på sig själv. Av planen har vi rugbyns berömda tredje halvlek och det är en sport där man lär sig mycket om sig själv.