After training last Thursday Facebook was humming with anticipation for the weekend's game. Lugi vs Malmö. The big one.
Malmö finished on top of our division last year. They have a lot of experience and have been playing together for a long time both in Sweden and abroad. But off the back of their narrow loss to Karlstad, the Lugi boys sensed that Malmö could be in store for another upset. This passion – if at times a little unguarded – was wonderful to see; something that we have lacked in the past when up against the physical Malmö lineup.
From the kickoff it was clear that this passion would make for an entertaining brand of rugby. Lugi were gallant in defense. Antonio "The Hedgehog" Privitera and "Vicks" Cordes were brilliant early, stopping the Malmö crash-ball centre combination before they could reach the advantage line. The forwards too showed their strength in tight, with Nick "Who?" Jewitt and Johannes "Preacherman" Imberg putting their bodies on the line to slow opposition momentum. At one point, blood streaming from his nose, the "Preacherman" trotted swarthily to the sideline. A few moments in the steady hands of "Doc" Leishman and the patched up priest was back on the park.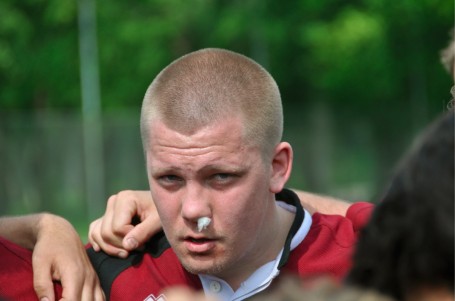 On occasions we were slow to react defensively on the blind. "Lungs" Heredero, a man vociferous off the field, struggled to organise nearby team mates on it. But every time the ball came back his way, the gaps were closed. "Lungs", forsaking all concern for personal well-being, time and again threw himself into the path of bigger men. If he didn't always stop them, he sure slowed them enough for the sweeping cover defense of flanker Iain Lednor and fullback Kalle Qolicokota.
With the ball in hand Lugi looked dangerous. Periods of slow phase building in the midfield were punctuated by some clever kicks from "The Hedgehog" Privitera and "Johnny" Mackay. Lindängen can be a breezy place to hold a game of rugby and in the first half, these two gentleman used that to our considerable tactical advantage. But it wasn't just the weather mind. When forwards "Dunning" Cifani and "Eales" Lednor tried to replicate, their efforts were met with considerably less success.
Lugi struggled to turn phases into points however; the early discipline of the Malmö squad gave us few openings to kick for goal. With a new centre pairing and a lack of blistering Finnish fire power out wide, the opportunities to put tries on the board were few and far between. When "Tap-kick" Thylander put "Eales" Lednor over all hands were raised to faces in shock. Did he… Oh my… But a merciful Tomasi Tamanivalu signalled the try and Lugi crept ahead to claim the first half, 0 to 7.
It saddens me to inform you, dear reader, that early in the second half the fire in the belly went out.
Players started complaining about about injuries, heads bowed and mounting frustration was directed at the referee. When Kalle limped from the field clutching his knee Lugi turned to old heads and reshuffled the backline. We rarely again looked as strong in attack.
With the breeze in our faces we were forced to scramble for territory. "Johnny" Mackay continued to find touch but the tactical decision making of his outside backs left something to be desired. Playing on the wing is not as easy as many suppose: a simple mistake can quickly turn disastrous. Having never worn a double-digit number however, I'm not well placed to suggest how we can improve on this. The best thing is probably for us to get our hands as much rugby as we can and study the way that a professional back three work together to create and close up space.
Many of the errors in the backline can be boiled down to an unsteady forward platform.
All day lineouts troubled the Lugi forwards. We were slow to react and never looked convincing in the air; I can think of only a handful of occasions in which our throw escaped the clutches of Malmö's front jumper. While new weapons have been added to our arsenal since the season began, they proved ineffective. Ten minutes before the game, we were told by the referee, quite rightly, that players are longer allowed to join or leave the line. We tried to adapt but it didn't work: our five man was not an option. Likewise our use of the short throw failed to travel the necessary five meters and we conceded a great opportunity to attack from inside the opposition's 22.
I think it will be wise for us to strip this part of the game back and work hard at its constituent parts. The accuracy of our throw needs improving, as does the speed of our lift. Only once these aspects have reached a sufficient level should we turn our attention to timing.
Similarly scrums in the second half started going backwards. This was in part due the experience and impact of Malmö's bench, but also to tired legs in the second row and a lack of urgency and communication between the eight and nine.
Lacklustre restarts are starting to impinge on our ability to develop other parts of the game.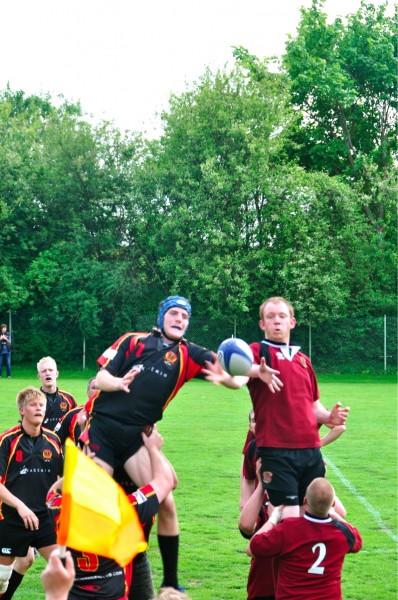 But it wasn't all bad.
Nick "Who?" kept his chatter up all day, even winning us a penalty at one point when I failed to lift him in the lineout (although I'm not really sure how that one happened). Equally, "The Hedgehog" Privitera communicated well in defence, securing, no doubt, his position in the backline after a brief hiatus due to work.
In their first game of seniors' rugby, Oscar and Johan showed that a stewardship under Peter Ahlgren is a youth well spent. They were great with the ball in hand, easily crossing the advantage line and leaving their support standing still.
We continued to see some fantastic individual tackling. Our little men hit low and on numerous occasions brought hard hitting Malmö inside, Christie Suerio, to his knees. Let me tell you from experience that Christie is not a man to hesitate letting you know that he shouldn't be tackled. Last year he performed on me an impromptu, on-field labial frenectomy with no finer medical instrument than his forearm. No joke. I felt like he'd claimed a part of my soul.
Flashes of fortitude returned to us as the final whistle neared and we were unlucky not to close on Malmö's lead. At one point, pressing close to the try line, a three-on-two overlap was spoiled as the Malmö first-five intercepted a pass, putting to rest any hope a last minute turn around.
Again we saw the hard lesson of rugby this weekend: that it is an 80 minute game. Against Helsingborg, ferociousness and spirit turned to our advantage in the last ten minutes for a miraculous turnaround. Against Malmö, we lost passion in the second half and our modest lead was chipped away. Only "Vicks" and Niklas Andersson showed flashes of discontent – rushing to aid their captain following some cynical rugby. Keeping the intensity going throughout the game is no easy feat, and something for which we really need depth on the bench.
Final score: Malmö 17, Lugi 7. Try: Iain Lednor. Best on: Andy Mackay.
A big thanks to Mats Månsson and Rob Leishman for helping with the subs in the second half and Tomasi Tamanivalu for another even-handed performance with the whistle.