HRC Gripen vs The Lugi Lions, June 11
If you were to look at Saturday's scoreline you would be forgiven for thinking Lugi played their best rugby of 2011: "8 to 38. That's quite a drubbing, isn't it?" And partly, you would be correct. We dominated possession and took territory when it was available. But it would really only be part of the story. Most of our tries came from the counter-attack, from quick turnovers and speed in the backs. That is to say, the scoreline stands as is thanks to opportunistic rugby. I don't want to detract from a strong win. Yes, there were moments of individual brilliance, but as a team, we have played better rugby than we did on Saturday.
From the first whistle to the last, it was clear that Lugi wanted the win far more than did Helsingborg.
In the first five minutes tight phases and strong tackling helped the ball to spill free from Helsingborg hands. "Simba" Thylander gathered and accelerated quickly through the defense of his slow-to-react opposition. With golden hair streaming and chunky legs pumping, it was clear from the sideline that Sebastian had one thing on his mind. For a time it looked as if he wouldn't, but the half-back's deceptive pace ensured that he did and Lugi took an early lead.
From the return kick, Lugi played two phases through the hands before "Garyowen" Carlsson decided, much to the suprise of the sideline, to test Helsingborg under the high ball. They passed admirably, and it was several passages of play before Lugi were able to win back the ball. Again, two phases, and this time the kick was for territory. August "T2" Lundqvist put in the chase and showed no hesitation in smashing his opposite number into touch.
Under the steady throw of "Good Stuff" Andersson, the lineout was solid and our backs again had the opportunity to attack. We pressed on the line. Our centre pairing – "Nap Time" Watson and "Shoes!" Cordes – were strong in attack and with "Drift" Lednor at openside and "Mummelman" Granström at blind, the ball was secured whenever the advantage line wasn't. Our second try came thanks to some strong forward pick-and-drives and a cheeky through-the-legs swan dive from "Nap Time."
Shortly after the restart, Helsingborg looked to their big men. A heavy thud of a forward-on-forward tackle was punctuated with a sickening crack. There was a lot shouting and confusion and Niklas "Good Stuff" Andersson was uncovered from the bottom of the ruck, clearly in great pain. The teams retreated from the Swedish Summer into the shade and The Lugi Medical Staff (which is to say, Dion) quickly diagnosed a fracture to the lower leg: call the ambulance now. Both teams paced restlessly in wait, concern on their faces and nervousness in their bellies.
Niklas' untimely departure from the game was a great loss to The Lugi Lions. He has been unmatched this season in passion and dedication. It is thanks to his hard work that lineouts have become such a strength of our game, and thanks to his attitude that our front row has cohered at scrum time. We send our Lugi kärlek out to you, "Good Stuff", and wish you a speedy recovery.
With Niklas gone, Magnus and Antonio out of the country and Sylvain in recovery, the responsibility to keep the score board ticking over came to rest upon our youngest players – our mostly Swedish players. Our outside backs stepped up to the mark with "Chains" Ollig, "T2" Lundqvist and "Resistance is futile" Borg all playing patient, persistant and penetrating rugby.
Lineouts took a turn for the worse after the loss of our hooker however. Aaron "Haircut" Butel was allocated the role of throwing, the first time he had done so in five years. Miscommunication between Aaron, Nick "I'm never gonna see you guys again" Jewitt and Tadas Valutis lead to overthrow after overthrow. With time, it settled.
The lineouts were an odd battle all day and Lugi remained competitive in defense – thanks largely to Nick's leadership in the air and unsteady combinations in the Helsingborg line.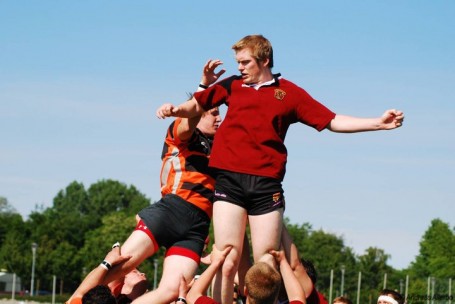 Our scrummaging was solid but not brilliant. A heavy front row – and forceful support from the blindside flanker – allowed us to get away with some sloppy body height and lack of cohesion between the first and second rows. Where a month ago we had half a dozen 4/5's we are now down to our last couple. This part of our game will again need work if forwards are to provide a solid platform against the larger Malmö team in three weeks time.
The remainder of the first half was a closer fought affair, with the only points coming from a clever chip-kick inside our attacking 22 from "Garryowen" to put a questionably-offside Iain Lednor over for a try. Olof then slotted his second from a tough angle, and the half-time score stood at 0 to 21.
In the second half, Helsingborg looked better with the ball – thanks largely, I imagine, to the inspiring pep-talks from big man Jim Meredith. They made ground around the edges of the rucks and were able to cross the line with some strong forward rugby. Our posting and tackling at the fringes left something to be desired – perhaps it is the closer scoreline that lends us the urgency and intensity we lacked on Saturday.
Helsingborg too, gave us trouble in the loose. Losing Ross "Nap Time" Watson with a dislocated elbow just before half-time hurt our continuity in the backline. While, by his own admission, Ross can hold on to the ball a little too long, the deception and vision he contributes is invaluable to any centre pairing. I felt that we failed to reach the advantage line as a result. And so lanky "Garryowen" made the choice to run the ball from 10 rather than ship it, and with "Drift" Lednor at centre rather than in support, he lost possession to the Helsingborg backrow.
This raises the issue of ball security at the breakdown. It is not enough to run from ruck to ruck, you also need to push, preferably with your shoulders. Too often on Saturday I saw players with a respectable work rate relax at the breakdown. This is possibly due to a lack of knowledge about the game, but it is also, I assure you, due to laziness. Only the original Terminator, "Mummelman" Dion Granström combined efficiency around the park with strength in the rucks. The rest of us forwards spent too much time seagulling in the backline or touching paint when in tight.
Despite their moments of assertive rugby, Helsingborg were slow to react when the ball was turned over. At one point a quick-tap taken by a Helsingborg prop was met with stern defense, and Viktor "Shoes!" Cordes was able to rip the ball free. In a display of individual strength, speed and whiteness of boots, Viktor ran the ball in from 60 metres, palming-off numerous players and making light of the opposition defense. It was a fantastic try, his first in a competitive game for Lugi and one that he will remind friends about for the rest of his career.
Lugi's next try was similar to it second. Some consistent pressure and rolling forward rugby was finished with a five metre pick-and-go by your humble match report writer. That brings my total tries for the year to one, and puts me, I'm sure you'll agree, in sight of the coveted top try scorer position for 2011.
All day the forwards showed an eagerness to help out in the backline, that while not always called upon, probably needs to be commended. Case in point: our final points for the day came off the back of a devious run from "Preacherman" Imberg whose offload gifted "Shoes!" Cordes his second. It was a great try and a strong indication of the versatility of Lugi's forwards.
One final thing that must improve, something that I have touched on above, but not spelt out: we must build our opportunities to score. Late in the second half, Iain drifted sideways, fending off three defenders before the ball was knocked forward on the wing. He created opportunities, not through text-book or team rugby, but through vision and individual strength with the ball. Many of the tries that we scored this weekend were brilliant, but many of them were also lucky. Consistency and hard work is what wins rugby competitions, not luck.
Helsingborg let their heads down on Saturday and Lugi had the opportunity to play steady rugby and grind them down. Instead we opted for fast glory. It paid off. In future matches, we must create opportunities through phase rugby, and capitalise on them when they arise. To do this, we need more heads at training.
Final score: 8 to 38. Tries: Viktor Cordes (2), Sebastian Thylander, Ross Watson, Iain Lednor and Jim White. Kicks: Olof Carlsson, 4/6 conversions, 0/1 penalties.
While it was not announced on Saturday, Lugi's pick for man-of-the-match was "Shoes!" Cordes. Viktor's rugby has developed by leaps and bounds in the last few weeks. His vision is developing and he is starting to hit the ball at pace. With two great tries "Shoes!" helped make for an entertaining match of rugby.