Lugi Lions Men start the season with a clear win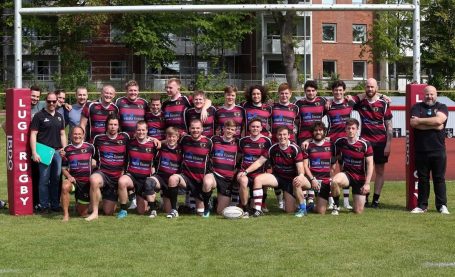 From the beginning of the season Stuart and Ali had put this match down as a must win. Following on from a close win away against Spartacus last season, they had identified Spartacus with their new coaching setup as one of the teams to beat. Stuart told the boys in the changing room one hour before the match that they would change their normal style of play and for the first 20 minutes it worked…… it really worked.
The guys were able to adapt and from the kick off, with a high intensity forwards play, dominated. Recycling the ball in the centre field, they took immediate control of the match not letting Spartacus near the ball.  With the forwards punching holes through the defence, the first ten minutes saw an all Tobias affair. Firstly, Captain Tobias Magnusson, scoring after three minutes then saw Tobias Nilsson scoring after 7 minutes followed by another captain's try on 9 minutes. 10 minutes in 19 – 0 up. The match began to stabilise with a lot of Spartacus possession, but good defence and handling errors kept the score sheet the same until 25 minutes with Ale Loman scoring the first of his two tries. With Lugi getting a yellow card at 30 mins, the dominance began to change, Spartacus got their first points on the board after a sustained attack 34 minutes in. The second half was a slower paced game with handling errors, poor decision making throwing away scoring opportunities for both sides. Spartacus were the first to score in second half on the 60th minute mark but another try from Ale with 10 minutes left to go effectively sealed the match. Spartacus however had the last say with a try in the dying minutes of the match.
Final score 33 – 17, though a clear win with a bonus point on paper, the second half will be a wakeup call if the boys are to aim for back to back championships.
Thanks to all those who came down to support.
Man of the match: Ale Loman, with an honourable mention to Tobias Nilsson.
Try: Tobias M (10), Tobias N (5), Ale L (10)
Conv: Tobias M (8)