A.S.R.V. Ascrum 2nd XV – Lugi Lions on tour
On the 3rd day of tour (not including the traveling day) was the time finally there to see how prepared the mens team was for the upcoming season. Even though the three days in Amsterdam demanded a lot from us, we still took off to the western part of Amsterdam to play on this beautiful easter day against Ascrum. Because both teams were slightly short on numbers, the decision was made to play ten's instead of the normal fifteen's.
The Lions started convincing, as always, which resulted in a beautiful try after many phases of attack. Shortly after Laury, managed to see a gap the size of Manhattan on the blind side and decided to take a run for it and managed to finish off. David and Victor scored not much later in a combined attempt but this try was cancelled because the referee (and we still don't know why) saw a forward pass in it. This try was for Ascrum the sign to take it up a notch and they scored twice as well before half time which resulted in an equal starting point for the second half. Even though Lugi was camping on the Ascrum Try line for much of the game, it was hard to make it all the way through. The referee for the second half, who made his referee debut, was also not very strict on hands in the ruck (what happens in the ruck stays in the ruck) and so the Lugi Lions saw themselves forced to react quickly, which didn't really happen, when an Ascrum player who played the entire game in an eastern bunny costume managed to take the ball out of the ruck on the Ascrum try line and run with it across the field. Even though the three days of Amsterdam was starting to take it's toll on the Lions, which showed in the further part of the game, Victor still managed to score a try by using his strength to ignore the tackle that was made on him. The Lions finished the game with only nine players after both David and Will had to leave the field due to knee injuries. Lluc Out, one of the few who managed to remain fit all game, was awarded man of the Match, partly due to a flying tackle on one of the Ascrum forwards. The third half was obviously won, but that's something that will remain on tour.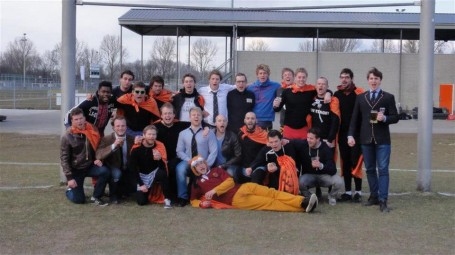 Final score: Ascrum – Lugi Lions 38-26
(written by Gijs van der Poel)