ARCHIVES
Written by
Jim
on August 15, 2012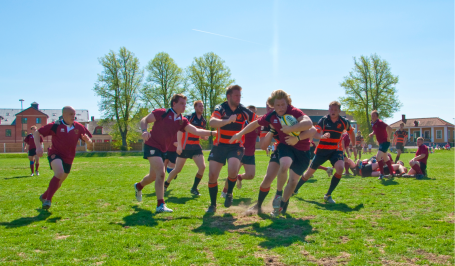 If you are at all interested in playing rugby on your exchange, then the Lugi Lions rugby club invites you to join us at training.
The Lugi Lions train at Centrala IP near Lund Central Station every Monday and Thursday. Women's sessions start at 6pm. Men's start at 7pm. We urge anyone interested in the sport to come down and give it a shot.
What have you got to lose?
[wpgmappity id="1″]
The Lugi Lions Rugby Club is a great place to play rugby, keep fit and have fun – an environment in which Swedes and exchange students mix freely. We have both men's and women's teams and can cater to all backgrounds and levels of experience. Our teams include beginners of all ages, internationals who have played for many years in their own country, as well as Swedes who have played at the national level.
Lugi is a very social club. Over the years we have welcomed players from many countries: Argentina, Australia, Canada, Chile, England, Fiji, Finland, France, Germany, Ireland, Italy, Japan, Kazahkstan, New Zealand, Scotland, South Africa, Spain and USA. There are plenty of opportunities to party; our beer prices are as cheap as the Nations and we hope to show rugby games every week at the clubhouse till the end of the year.
Register online or get in touch with our team reps:
Ladies, get in contact with Helene at damer@lugirugby.com.
Gents, you'll need to speak to Paolo at gents@lugirugby.com.
The Lugi Lions Facebook Group
The Lugi Ladies Facebook Group
Written by
admin
on February 29, 2012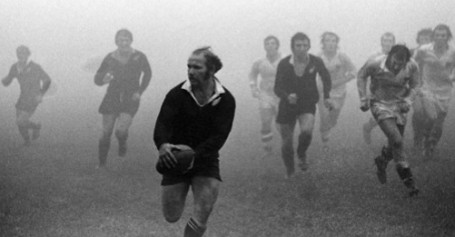 Welcome to the 40th Anniversary of The Lugi Lions Rugby Club.
Everyone who has been part of the club during the last 40 years is invited to celebrate with us, LUGI style! The official tournament, dinner and after party will be held on the 30th of June 2012.
The Lugi Lions Rugby Club was founded in 1972 by 3 friends, John Nash, Perry Hadley and Calle Erlandsson. Since then many men and women who have passed through the club. We hope to see as many of you as possible return to the club to join us for this special celebration.
The cost of the anniversary tournament and dinner will be 500 sek/person. This will include a tournament entrance fee and a three-course dinner in the evening. If you have special dietary needs, please let us know during your registration. If you do not wish to attend the dinner, the cost will be 400 sek less.
The tournament will at the very least include four teams: one swedish-only team, one team of mixed internationals, one women's team and one old boys' team. When you send in your registration, please let us know which team you are interested in playing with. We hope that there will be players from different countries who will wish to organise and enter their own team into the tournament. If you want to submit an entire team, let us know well in advance so we can make sure the day runs smoothly. The exact structure of the day's rugby will depend on the number of people who register.
The clubhouse will be open all day for registered guests who are interested in only coming down for the rugby. Food and beer will of course be available.
Please register online at: lugirugby.com/register40.
Written by
admin
on February 15, 2012
Hello Lugi Lions and Lionesses,
The Committee is pleased to announce that the Annual General Meeting will be held on the 28th of February at 7 pm in the Clubhouse.
Contact Dion Granström or Anna Thynell in the nominating committee, if you want to nominate someone (or yourself) to the board or the nominating committee.
February 17th is the last day to hand in motions (suggestions) to the board. If you need help writing a motion, please contact me.
It's very important that as many members as possible attend this meeting!
Lugi Love
Gabriella Westerdahl,
proud President of Lugi Rugby Club
—————————-
Kallelse till Lugi Rugbyklubbs Årsmöte 2012
Tid: Tisdagen den 28 februari, kl. 19:00
Plats: Klubbhuset
Dagordning (i enlighet med stadgarna)
1. Mötets öppnande
2. Fastställande av röstlängd
3. Val av ordförande
4. Val av sekreterare
5. Val av justeringsperson tillika rösträknare
6. Frågan om årsmötets behöriga utlysande och beslutsmässighet
7. Dagordningens godkännande
8. Styrelsens verksamhetsberättelse
9. Styrelsens förvaltningsberättelse (balans- och resultaträkning)
10. Revisionsberättelsen
11. Ansvarsfrihet för styrelsen
12. Medlemsavgift
13. Val av
a) Ordförande (1 år)
b) Halva antalet övriga ledamöter (2 år)
c) Suppleanter (1 år)
d) 2 st revisorer (1 år)
e) 2 st ledamöter till valberedningen/
14. Behandling av inkomna motioner
15. Information från sponsorgruppen
16. Information från jubileumsgruppen
17. Övriga frågor
18. Mötets avslutande
Lugi Rugby Club's Annual General Meeting 2012
9 PM – Tuesday 28th February 2012
At the clubhouse
Agenda (according to club constitutions)
1. Opening of meetig
2. Count of eligable voters
3. Election of chairperson
4. Election of secretary
5. Election of minutes-reviewer and vote monitor
6. Decision on if Yearly meeting has been correctly notified of an decision on quorum exist
7. Approval of Agenda
8. Committee's report
9. Treasurer's report
10. Audit report
11. Freedom of liability for the committee
12. Membership fee
13. Election of
a. Chairperson ( 1 year )
b. Half the number of general committee members (2 years)
c. Alternate members (1 year)
d. Auditors ( 1 year)
e. Members of the nominating committee
14. Treatment of correctly submitted motions
15. Information from the sponsorship group
16. Information from the jubilee group
17. Any other bussiness
18. Meeting is closed
Written by
Jim
on January 3, 2012
Here's a little tip for those of you who are not using the lovely 'Shades of Rugby' as your primary calendar.
You may be interested in incorporating the Lugi Lions events into your iCal or Microsoft Outlook and receiving updates as they happen . To do this, you will need to subscribe to its ICS file. These can be found at:
Men's games
https://www.google.com/calendar/ical/1gftag4ddot52ni8jnhkvl2t8k%40group.calendar.google.com/private-ab340002dfc1034a9f6765a10a220357/basic.ics
Old Boy's
https://www.google.com/calendar/ical/r881or0gkuujhs5lcnrmtpj7os%40group.calendar.google.com/private-92775f7430c7a5be913e8c290c5aa591/basic.ics
Parties
https://www.google.com/calendar/ical/4121a96aaak6nprpl8bp4gd7p4%40group.calendar.google.com/private-755cb1397ce9ba437dfc42014a49a2af/basic.ics
Training
https://www.google.com/calendar/ical/pt9i4bk2ueef0q9394fd760t1g%40group.calendar.google.com/private-67f548246e00238a1a2e93d71d1ad16d/basic.ics
Women's games
https://www.google.com/calendar/ical/ajebguvvu5uddv9mrrcsrt8j00%40group.calendar.google.com/private-090ae1846b91ce60d7660a26c1249447/basic.ics
Youth
https://www.google.com/calendar/ical/8g90nn3pdum5n3iqncl6p414bg%40group.calendar.google.com/private-46da522e4d5c6a40ea5c02e13fa428e3/basic.ics
If this scares you, never fear, you will still be able to access the calendar from the sidebar on the website.
Written by
Jim
on August 26, 2011
The 2011 Rugby World Cup in less than two weeks away!
And so I am pleased to announce that it is that time again ladies and gentlemen: time to start putting together your fantasy rugby team. Signing up is free and can be done at: espnscrum.fantasyleague.com.
Following the 6 Nations earlier this year, I must admit disappointment at allowing a former player – and a pommie bastard, no less – walk away with the glory. It was however a long and close fought battle, with many bruised egos and lost beer-bets.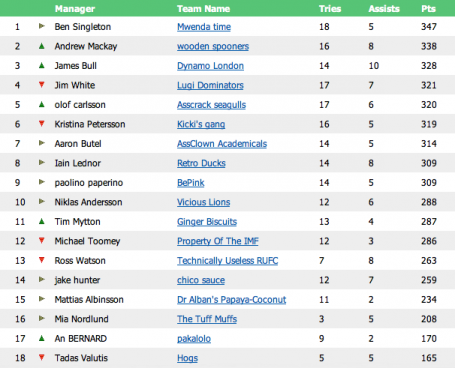 I think us local lads can do a lot better this time. But of course, we will keep the competition open to anyone associated with the club: past, present, future, friend or family.
The Lugi League has the imaginative name of 'Lugi Lions' and has the PIN number 1372.
So read up on the rules and start thinking about your team. This is what you're up against.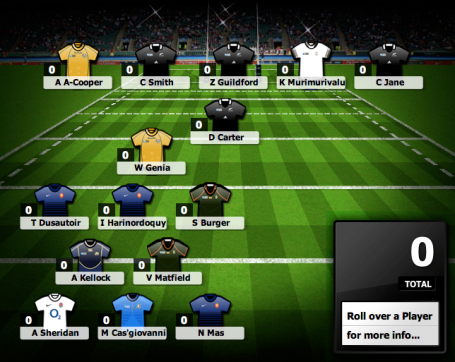 The first round games are as follows:
New Zealand vs Tonga
Scotland vs Romania
Fiji vs Namibia
France vs Japan
Argentina vs England
Australia vs Italy
Ireland vs USA
South Africa vs Wales